Better listening conditions
 Noise affects health and wellbeing. Optimal room acoustics promote concentration, productivity and reduce stress. Especially in modern architecture, we often encounter more generous, smooth surfaces and large rooms, which makes soundproofing necessary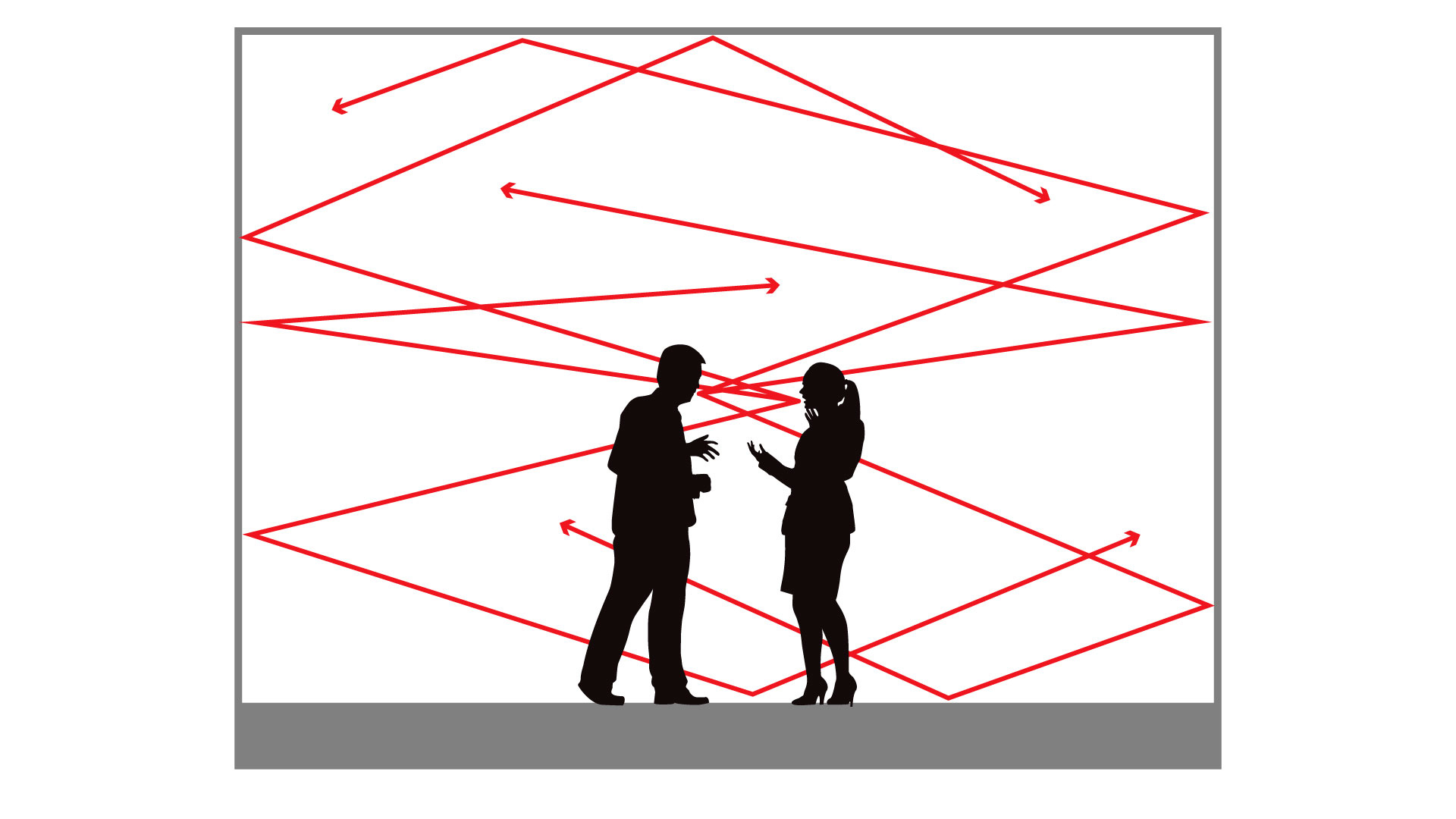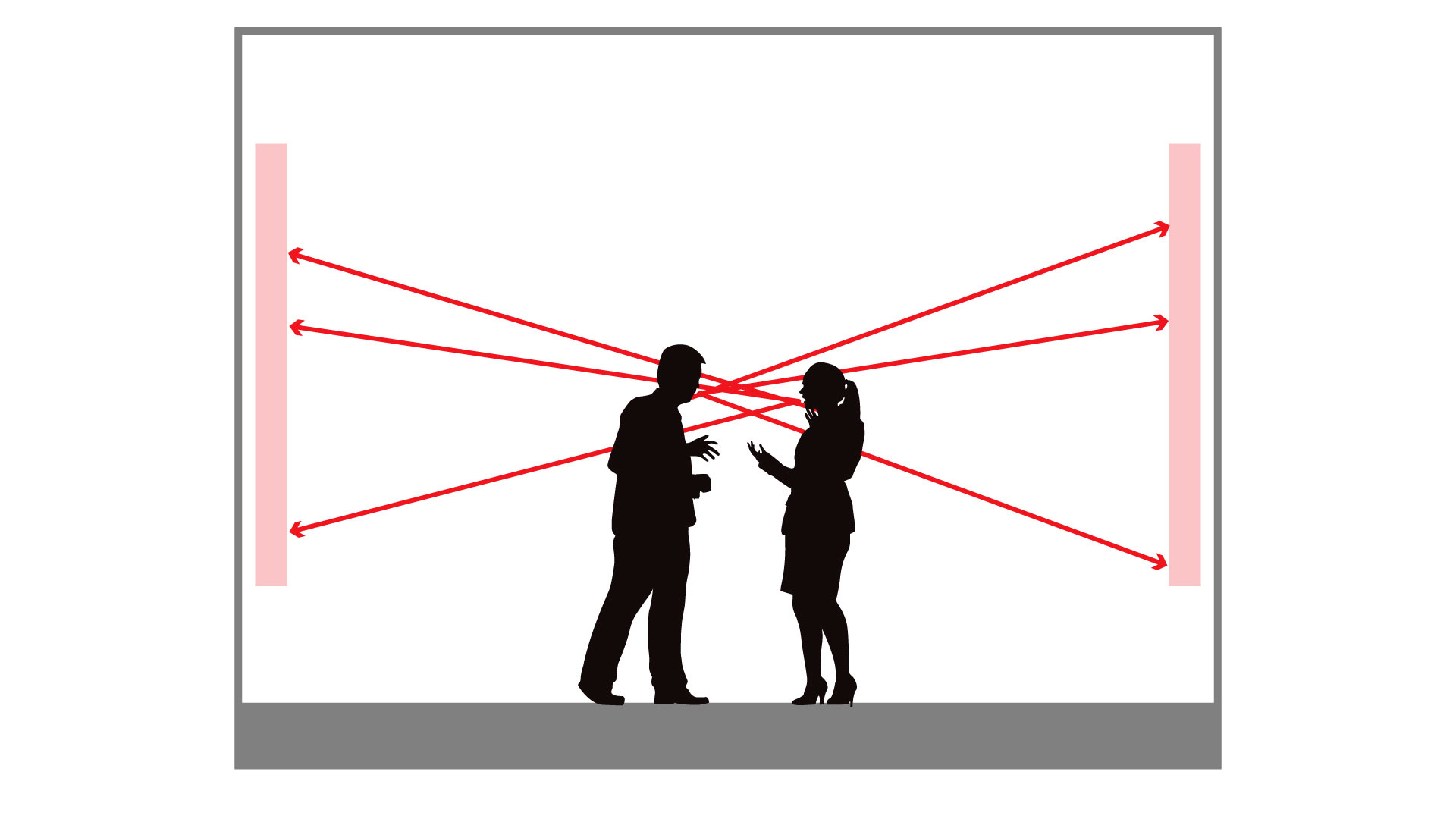 High sound absorption – Lexicon
 General information about acoustics
∇ Reverberation ("t")

... is the most important room acoustics parameter.
... is the time that elapses until the sound level in the room falls by 60 decibels
... can be easily measured
... or can be roughly estimated by sighting

 Source: W.C. Sabine
∇ soundproofing =sound absorption("a")

Room acoustic characteristic
Hindrance of sound propagation by absorption of airborne sound (physical definition)
The sound is not reflected by the surface, but absorbed
Unpleasant reverberation is reduced by absorption
Objective: To change the sound of the room to improve room acoustics, to create optimal listening conditions
∇ soundproofing

Building acoustic characteristic
Improve acoustical separation between rooms
∇ Frequency ranges ("Hz")

Frequency = The frequency of the vibrations. Low number of vibrations produce low tones, the more vibrations the higher the tones.
Room acoustics: 63 - 8,000 Hz
Audible range of the human ear: 16 - 20,000 Hz
Building acoustics: 100 - 3.150 Hz
∇ Sound level (volume) dB ("A")

A difference of 10dB means about twice as loud
Examples:

Kindergarten: approx. 80-85 dB
∇ Standards / guidelines / recommendations

DIN 4109: Sound insulation in building construction
ArbStättV and UVV noise § 15
∇ Only recommendations:

DIN 18041: audibility in small to medium sized rooms
DIN 18032: Audibility in sports halls - halls and spaces for sports and multipurpose use
VDI 2058: Assessment of workplace noise taking into account different activities
VDI 2569: Soundproofing and acoustic design in the office
∇ Evaluation of the sound absorption capacity of materials

a: Sound absorption: values ​​between 0 (complete reflection) and 1 (complete absorption). Absorption varies according to frequency.
a s: Frequency-dependent sound absorption factor: Absorption values ​​for 18 frequencies between 100Hz -5000Hz
a w: weighted / weighted sound absorption coefficient: measure of sound absorption capacity: a value between 0 andMaterial &characteristics

 The textile printing is characterized by brilliant colors and a high-resolution print quality and is wrinkle-free.
(Textile printing features brilliant colors, a wrinkle-free texture and high-resolution print quality.)
care instructions
materials and properties
The textile print is characterized by brilliant colors and a high-resolution print quality and is wrinkle-free. It is printed with environmentally friendly, water-based ink and has been awarded the Eco-TEX®100 certificate. The sublimation pressure is allergy-friendly, free of outgassing agents or flying fibers and contains no chemical binders. Fire protection class B1 according to DIN 4102. Colors: For textile prints, please specify special colors in Pantone, we will gladly create color adjustments for you.
 The acoustic material is environmentally friendly and has been awarded the Eco-TEX®100 certificate. Depending on the desired product and degree of absorption, it is used in various thicknesses and has a highly sound-absorbing, sound-absorbing class A according to DIN EN ISO 11654.
 The aluminum tenter frames can be colored in any RAL tone, and the manufacturer marking is also important. These color adjustments are calculated separately and are not available in the standard delivery time. We look forward to your inquiry through our contact form.
Aluminum frame: The picture frames made of aluminum are characterized by their simple elegant form. The motif is placed in the foreground by the frameless design. The aluminum clamping frames - textile clamping frames are available in different depths depending on the product and the degree of absorption. The aluminum profile is anodized and therefore easy to maintain and maintenance free.
Anodizing: A protective layer is formed by conversion of the topmost metal layer to an oxide / hydroxide, this prevents corrosion.
Fixing: Various mounting accessories are available for the different frame profiles. It is important to know where the acoustic images, ceiling sails, baffles, ceiling pictures or sound absorber walls - on which material they should be attached. Whether simple wall mounts, ceiling suspensions, clip mounts or glass mounting - we offer a complete solution.